DALF C1 Preparatory Course
When:
May 5, 2021 @ 7:30 pm
Asia/Kolkata Timezone
2021-05-05T19:30:00+05:30
2021-05-05T19:45:00+05:30
Cost:
₹ 5000 plus GST | € 70 | $ 82
Contact:
Bijal Menon
+919322293326
Get ready for the DALF C1 exam!
Intervenant : Vincent BOUEN,

enseignant de FLE,

expert en DELF DALF,

formateur de professeur FLE
10 heures de cours

début des cours : le 5 mai 2021

chaque mercredi

19h30 - 20h30 Inde

16h00

- 17h00 Paris
---
N'hésitez pas et obtenez

votre diplôme officiel de français!
Découvrez et maîtrisez la méthodologie de la production écrite et orale du DALF C1 pour mettre toutes les chances de votre côté et réussir l'examen

Dans ce cours vous découvrirez les thèmes de l'examen et comment analyser les documents pour faire une argumentation orale et écrite réussie

De plus vous apprendrez à mettre en pratique toutes les techniques pour réaliser la synthèse de documents du DALF C1
---
Batch starting 05 May 2021
Prerequisite: This course is aimed at those who plan to appear for DALF C1
Duration: 10 hours of video conference classes / 1 hour per session / once a week
Competencies: In order to be prepared for DALF C1, we will be working on the 2 skills: writing and speaking + the exam structure and content following the CEFR program. Pedagogical material, class report /audio will be provided.
Objective: Participants will be able to:
Discover and know in detail about 'Production orale' and 'Production écrite'
Do a synthèse of the text
Write 'un essaie argumenté structuré'
Construct arguments to defend his/her opinion for the oral exam
Instruction Methodology: Through video conferencing services.
INR 5000 plus GST| 70 EUR |82 USD
---
About the Resource Person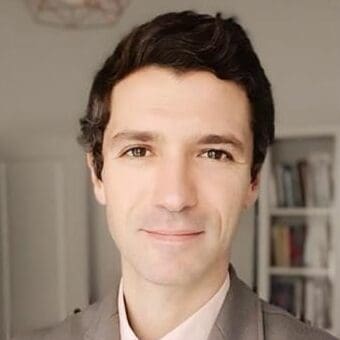 Vincent BOUEN
Enseignant de FLE, expert en DELF DALF, formateur de professeur FLE depuis 2008
Il a fait sa formation initiale à l'Alliance Française de Paris, puis a suivi d'autres formation à l'institut Français de Bilbao, à l'Institut Français de Madrid puis à l'Institut Culturel Français de Séville. Il s'est également spécialisé dans la création de contenus en ligne ,axés sur l'enseignement et l'apprentissage pour étudiants et professeurs de FLE. Il a réalisé de nombreuses formations de professeurs sur les thèmes suivants: Le jeu en classe de fle, Les activités théâtrales en classe de fle, L'autoévaluation dans la classe de français, Comment préparer les élèves aux épreuves DELF Prim, Junior et Scolaire, Comment réaliser une évaluation dans la classe de français. En tant qu'expert DELF DALF, il a évalué le DELF, formé des évaluateurs et participé au Jury DELF junior et scolaire en Andalousie. En 2020, il a créé French School TV dans l'objectif de former et d'aider une plus grande communauté de francophones, étudiants et professeurs du monde entier.