When:
March 28, 2021 @ 4:00 pm – 5:00 pm
Asia/Kolkata Timezone
2021-03-28T16:00:00+05:30
2021-03-28T17:00:00+05:30
Contact:
Bijal Menon
+919322293326
« Sésame, ouvre-toi ! » animé par Hugues Denisot, auteur chez Hachette FLE
Comment susciter la curiosité de nos pré-ados (10-12ans) ?
Comment les impliquer dans leurs apprentissages ?
Quelles tâches leur proposer ?
Comment les aider à se souvenir de ce qu'ils ont appris, à surmonter les obstacles, à crée eux-mêmes leur propre motivation ?
Si vous cherchez des réponses à ces questions, assistez au webinaire proposé par Hugues.
Il illustrera ses propos d'exemples extraits de son dernier Manuel «  Sésame ». 
Intervenant : Hugues DENISOT |
Attaché de coopération éducative - Ambassade de France en Croatie
Notez le rendez-vous ! 28 mars 2021 à 16h00(Inde) ou 12h30 (Paris)
---
About the Resource Person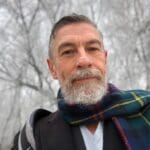 Hugues DENISOT
Attaché de coopération éducative - Ambassade de France en Croatie
Instituteur de formation et professeur de français langue étrangère, Hugues DENISOT a enseigné cette discipline dans des contextes variés, Alliances françaises, Instituts français, Ecoles européennes, Ecoles américaines, Ecoles françaises en Espagne, Etats-Unis et Belgique. Il est auteur de méthodes de français langue étrangère pour les jeunes enfants depuis l'année 2000 pour les éditions Hachette FLE. Formateur de formateurs, ils assurent de nombreuses formations dans les domaines de l'Ingénierie de la formation et l'enseignement du français langue étrangère tous publics. Ses manuels sont nés de sa passion d'enseigner et de son goût pour le partage. Il a pu compter sur une belle complicité avec ses différentes co-auteures, Muriel Piquet-Viaux, Catherine Macquart-Martin, Marianne Capouet, Brigitte Eubelen et des illustratrices de prestige dont Rebecca Dautremer, Florence Langlois et Estelle Maddedu.
---
Disclaimer: The views and information posted here belong to the author(s)/speaker(s) or respective companies and institutions and IFH is not responsible for its content or accuracy.
If you have any feedback or queries, please leave your comments below: