PERFECTIONNEMENT LINGUISTIQUE avec Cavilam
When:
September 14, 2020 @ 7:30 pm – September 25, 2020 @ 9:00 pm
Asia/Kolkata Timezone
2020-09-14T19:30:00+05:30
2020-09-25T21:00:00+05:30
Where:
Online Learning
Log in details will be sent separately to participants
Contact:
Bijal Menon
+919322293326
This summer 2020, Indo French Hub had organised a Linguistic Stay program for French teachers at Cavilam, Vichy, Alliance Française but the COVID pandemic deprived us of the possibility to travel to France and get trained by one of the world's leading French-language schools.
Not letting our spirits get dampened, the opportunity for having the experience is being created yet again collaborating together to present 2 enriching courses from the comfort and safety of your home.
Let's explore and upgrade our skills from native trainers:
PERFECTIONNEMENT LINGUISTIQUE
There are limited seats, please fill the form below and we shall reach out to you.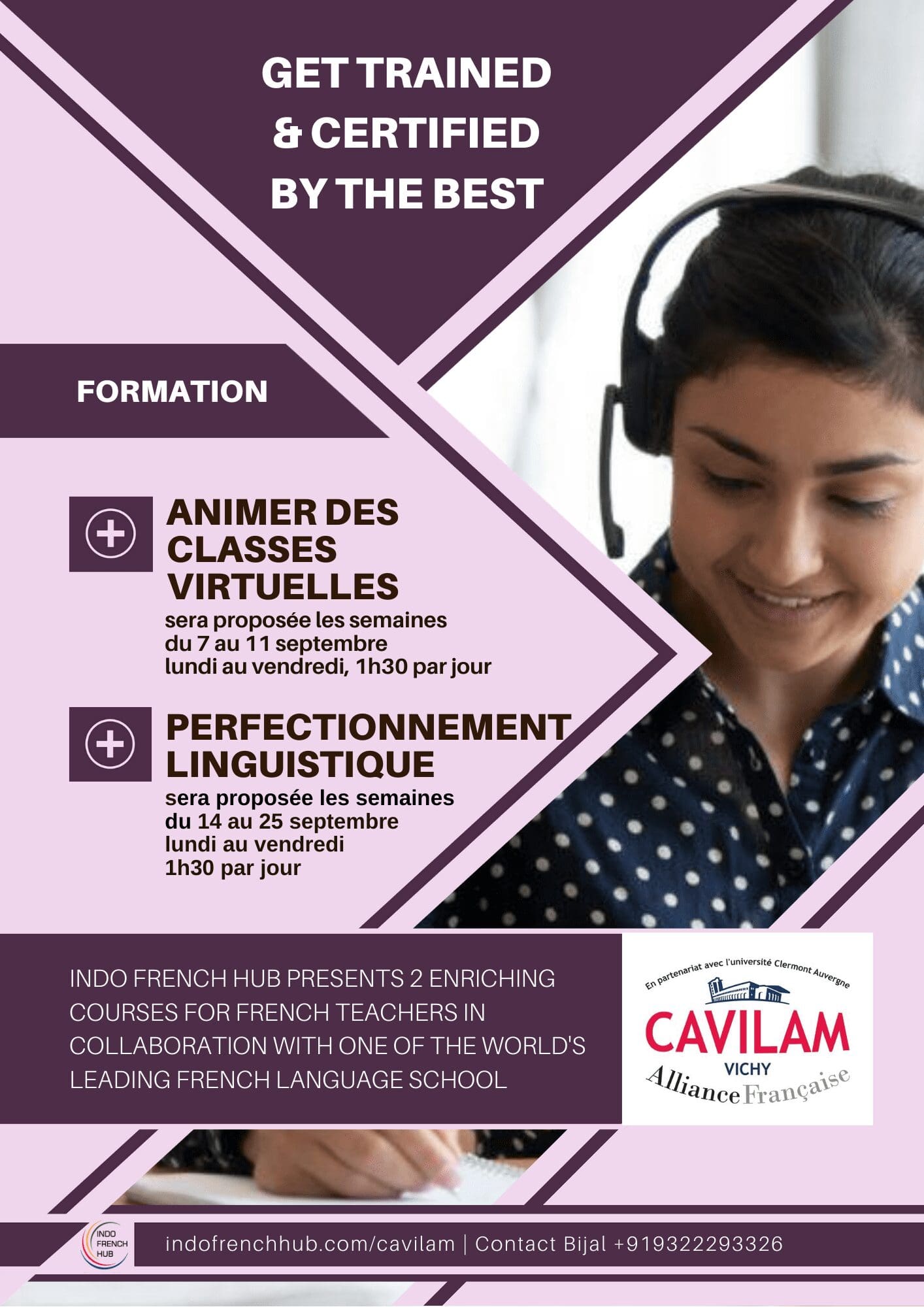 Date : du 14 au 25 septembre 2020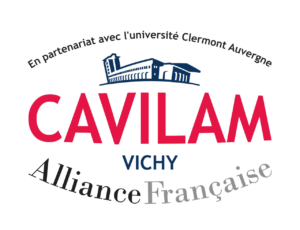 Pré-requis : niveau B1 en français
Publics : enseignants de français
Durée : 10 séances de 1 h 30 (15 heuers) de formation à distance en classe virtuelle de 19 h 30 à 21 h (heure indienne) 
Frais d'inscription : ₹ 15,000 + 18% GST
Objectif : développer les compétences langagières en particulier à l'oral
Programme :
Cet atelier spécifique pour professeurs de français indiens est destiné à aider les participants à améliorer leur fluidité verbale et leur compétence de compréhension et d'expression.
À partir d'une grande variété de documents, les participants exploreront des stratégies de compréhension et d'expression, une vraie occasion pour perfectionner ses connaissances langagières et rencontrer la culture française à distance.
De nombreuses activités pourront être transférées dans vos classes.
Les contenus et savoir-faire présentés ici sont donnés à titre d'exemples.
Après les deux premiers cours, le programme est adapté au niveau réel des participants.
Certaines compétences ou points de lexique ou de grammaire seront traités en fonction des demandes des participants.
Programme, contenus et savoir-faire ciblés au niveau B2 :
Contenus sociolinguistiques et socioculturels
Contenus linguistiques et discursifs
Savoir-faire
- L'évolution de la famille
- Subjonctif présent et passé
(Formation, emploi, usages particuliers…)
- Participer activement à une discussion, un débat: argumenter, débattre, commenter, critiquer, analyser
- Les modes de vie
- Indicatif / Subjonctif
- Les âges de la vie
- Système hypothétique
(Si + présent / Si + imparfait / Si + plus-que-parfait)
- Faire des hypothèses réelles ou irréelles
- Les habitudes de consommation
- Pronoms relatifs complexes
- Commenter un dessin de presse, une caricature des données statistiques
- Les loisirs et le temps libre
- Registres de langues
- Les loisirs et le temps libre
- Verbes à prépositions
- Exprimer ses sentiments et son appréciation
- Les Arts, le design, la mode
- Synonymie / antonymie
- Identifier l'humeur, le ton du locuteur
- L'humour
- Polysémie
- Expressions idiomatiques
- Résumer des éléments d'informations issues de sources diverses sur un même thème
- Les grandes idées politiques et les partis
- Enrichissement des articulations logiques
- Les grandes lois sociales
- Connecteurs logiques et temporels
- Les revendications sociales
Si les participants ont un niveau supérieur, le cours et le niveau seront adaptés.
Il est animé par une formatrice experte du CAVILAM – Alliance Française.
Sous réserve de participation assidue, la participation donne droit à une attestation de formation.
---
There are limited seats, please fill the form below and we shall reach out to you.
Since 2008, Cavilam, Vichy, Alliance Française has been awarded the Qualité FLE label assuring their courses, teachers and management with the highest quality.
---
Disclaimer: The views and information shared during webinars belong to the author(s)/speaker(s) or respective institution(s). Indo French Hub is a platform that connects content owners with content seekers and shall not be responsible for the content in any form. In case of programs that have registration fees, unless specified otherwise, the resource person shall be owner and person responsible for the content disseminated. Unless specifically authorized, any reproduction of the content by any participant in any form of any program conducted by us is not permitted and shall be in violation of the copyright act as applicable. The participants registering for any of our programs agree to have the technical resources required to participate in the online program. No refunds shall be processed for any reason whatsoever. In case any of the programs organized by Indo French Hub could not be conducted on the said date and time due to technical failure, sudden unavailability of the resource person or any other reason whatsoever, the said program shall be rescheduled to a later date and time.
If you have any feedback or queries, please leave your comments below: